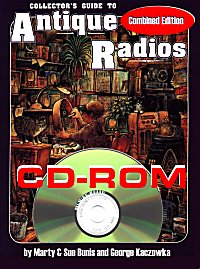 Collector's Guide to Antique Radios
Combined Edition CD-ROM
by Marty and Sue Bunis and George Kaczowka
Sorry, we are SOLD OUT! We want to thank all of you who have purchased our CD-ROM.. The very last remaining stock of our CDs have been sold to Antique Radio Classified. We do not plan on manufacturing more copies. If you want one, I suggest that you contact ARC soon for your copy.
it contains over 1800 full color photographs, and listings of over 9000 models!
you can now locate a radio:

by Manufacturer and Model Number (just like the book)
by Model Number alone (across all manufacturers). We also include the Manufacturer, style of radio, and number of tubes if we know it.
by Photograph (gallery of photos by radio type: Floor, Table, Portable, and Cathedral/Tombstone)
In addition, we have added a Zenith Research section which allows you to locate a chassis by using the radio Serial number, and from the Chassis, identify which models used that chassis. This will help in identifying elusive radios, and also in finding models which might contain replacement parts by having a similar chassis. This section has been integrated with the Zenith section of the listings, so most entries now list a chassis number!
Remember, that you will need a web browser that allows you to look at web pages which are on on your computer. Two of these browsers are Netscape and Microsoft Internet Explorer. Both of these can be obtained via the Internet for no charge, but due to licensing restrictions, we are not able to provide a copy on the CD-ROM itself. The use of the Web format allows us to produce a single CD that is readable by Macintosh, IBM compatables, and even some Unix systems! That way, everyone gets to join in the fun!!!
Please feel free to examine this sample of the CD-ROM. NOTE: Only models through Addison are here on the web, and only the Manufacturer index is active.
We no longer have any CD-ROMs to sell. To order, please contact one of our resellers for one of the remaining few CD-ROMs left in stock.
To see a list of current issues people have found using the CD, please see our Issues Page.
---
© 1998 by Marty and Sue Bunis and George Kaczowka, All Rights Reserved.