Radio For Sale:
Hoffman K-P411

The following radio is available for sale. All prices are in $US, and do not include shipping and handling.
---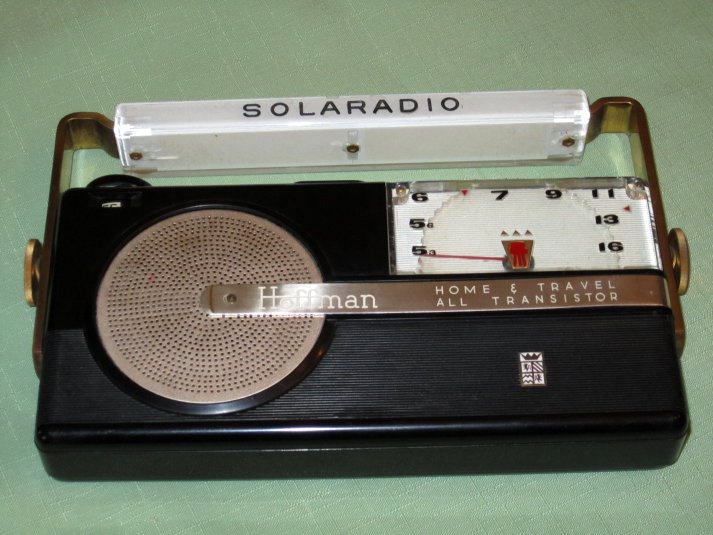 Hoffman K-P411


This iconic solar radio has been in my collection for several years. The radio is unrestored, and is essentially in the condition I received it in. It is a very early set, and the model was feaured on the cover of the August 1957 issue of Popular Science.

I have placed batteries in it, and I was able to pull in one station weakly (WBZ Boston). If you want to restore this for playing, I would expect that the electrolytic capacitors would need to be replaced, and the volume control and other contacts will need cleaning. The transistors are socketed, and the radio includes the penlight battery holder (takes 4).

I have tried to describe the condition as best I can. Please look carefully at the photos in case I have missed anything.


Offered for sale as I received it.
No known cracks, chips, or repairs in the radio case. There are some spider cracks on the UNDERSIDE of the solar handle around the nuts holding the handle together. You can see these in the pictures below.
Very elegant black and white color.
Some Solar Cells have separated inside the handle. However, no cells are broken.
The bands holding the loopstick antenna inside have deteriorated.
Price: $1,750.00


Please scroll through the photos below for detail views of the Hoffman K-P411.




---
Terms of Sale:
Shipping costs determined at time of sale. Insurance is required.
All sales must first be confirmed by e-mail (Inquire Button Above) and will be held for 1 week pending receipt of funds.
We only accept US Postal Money Order(s), or Cashier's Check from a major US Bank.
We do not accept credit cards or PayPal.
All prices are in $US, and do not include shipping and handling.
Shipping is available to the continental US ONLY.
We can offer a discount to those who will pick up the radio and pay cash.
---

Copyright © 2012 OldRadios.com, All Rights Reserved