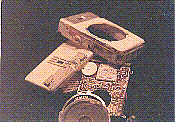 Sony TR-610 Restoration
This radio has to be the worst condition set that I have tried to restore. I did this more to experiment with repair techniques that to restore this set.. I think it didn't turn out half bad.. but you be the judge....
---
Before and After.. Can you tell which is which?

---
Copyright © 1996-2006 oldradios, All Rights Reserved. - Use this link to contact me