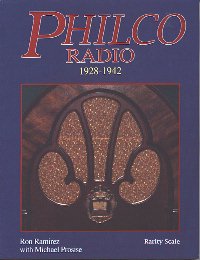 Title: Philco Radio (1928 - 1942)
Author: Ron Ramirez with Michael Prosise
Comments: This book is a must have for Philco enthusiasts. It contains most of the sets that Philco produced during the covered years. The photos for the most part are sharp and clear. It is a great book for identifying Philco models.
Availability: This book is available from several sources. You can purchase a copy signed and numbered by the principle author for $33.95 (which covers the cost of the book and shipping), KY residents MUST include 6% sales tax. Orders may be sent to: Ron Ramirez, 811 Maple St., Providence, KY 42450.
<!-TRAILER>

---
Copyright © 1996 George S. Kaczowka, All Rights Reserved
Address e-mail to:gsk@oldradios.com <!->